Commercial Cleanouts
Do you want junk and debris removal for your business? Don't spend time and risk injury by doing it yourself! Instead, come to the experts at Junk Free for all your commercial cleanout needs.
Instant Service Quote
Tell Our Team What You Want Gone!
918-212-4285
How Commercial Cleanouts Work
If you're in one of our service areas, commercial cleanout services are never far away. Just call us or book online. Either way, you'll soon be in touch with our friendly staff.
You'll discuss the finer details of your commercial cleanout job and select an appointment slot. We offer same-day and next-day scheduling. You could have your business cleaned out as soon as the end of tomorrow!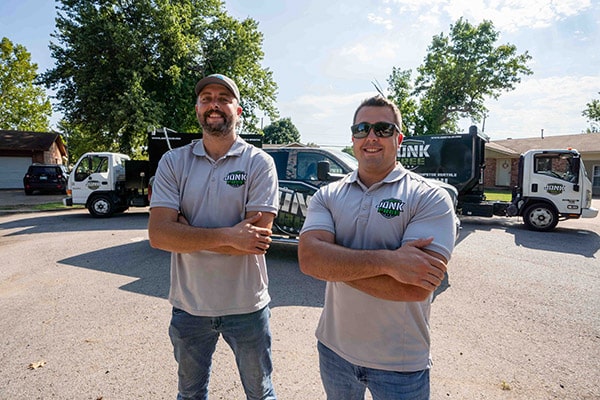 About Us
Who are we? We're Junk Free, your friendly neighborhood junk removal business! There's no type or amount of junk that we can't handle. In fact, we've done this so much, we've become talented professionals! So for your commercial cleanout, don't settle for anything less than Junk Free. We'll give you our expert services for a fair, affordable price!
We have the tools and the know-how to take on any commercial cleanout job, no matter how big. We can even clean out entire buildings!
Pricing
Worried about getting nickeled-and-dimed for your commercial cleanout? You'll get nothing of the sort from us. That's because unlike our national chain competitors, we're committed to giving you a fair, transparent price. We give you a no-obligation, upfront quote before we get to work. You'll never pay a penny more than your quote!
Instant Quote
CALL US TODAY!
Whether you're moving, forclosing, or just tidying your commercial space, a cleanout is just what the doctor ordered. But trying to clean out your business by yourself can be stressful, time-consuming, and even dangerous.
With Junk Free, you won't have to worry about any part of the commercial cleanout process. No matter the size, we're ready to take on any cleanout job.
Our hardworking and experienced team of commercial cleanout experts is excited to make your acquaintance! Call or book online today and you'll have a nice, cleaned-out commercial space before you know it.
Local Junk Removal & Hauling Services