Instant Service Quote
Tell Our Team What You Want Gone!
918-212-4285
How Our Junk Removal Service Works
Scheduling Your Appointment
A Junk Free employee is awaiting your call! Get in touch with us and we'll help you schedule your appointment.
Courtesy Calls
When we're on our way to your location, you'll receive a courtesy call from us. It's our way of letting you know we're en route.
Cleaning Things Up
No matter what junk is cluttering up your home or business, we're ready to move it into our junk truck.
Larger Loads
Our truck is larger than most of the others in the business, meaning we can haul more in a single load than anyone else.
No Junk Left Behind
Whatever junk you want gone, simply point it out to us. Our team is ready to fulfill all your needs.
Wrapping Up
Once we've completed our work, just pay us with cash, check, or card. Our prices are fair and inexpensive, meaning you don't have to break the bank.
How Glenpool Junk Removal Works
Junk removal in Glenpool doesn't have to be your problem. Instead, we'll handle the hard work and let you get back to doing what you need to do. Just show us what junk you want gone when we arrive at your home or business. Afterwards, we can calculate a final, in-person quote for the job.
Once you've accepted this quote, the price is "locked in"—meaning no surprise charges after the fact. Then, we'll complete the job in a swift and courteous manner. We stay focused on the work, so you can expect us to finish before too long! 
Recycling and Donating
At Junk Free, we aim to lessen the impact of junk removal in Glenpool on our environment. After all, protecting the integrity of the planet is more important than ever nowadays.
Making a Positive Difference
One of the ways we accomplish these goals is through recycling efforts. After all, there's no point in sending recyclable materials to the dump where they won't ever see use again! Additionally, we also donate gently used belongings to local charities. For example, Salvation Army is a great place to "pass along" any unwanted items that are still in good condition.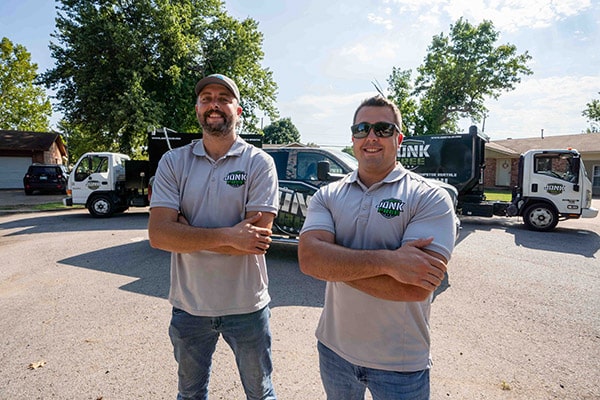 About Us
Who are we? We're Junk Free, a local business that's prepared to help you with your junk removal in Glenpool. We are veteran-owned, so we know a thing or two about hard work and responsibility. What's more, with our experience from all around our service areas, we've become junk removal professionals.
Your Neighborhood Business
When you choose Junk Free, you're choosing experience! This is the sort of talent you need, no matter what you need gone. Ready to start working with us? Then pick up your phone and give us a call. Or, use our online booking tool to select an appointment date today!
Scheduling Glenpool Junk Removal
To start,

give us a call

to connect with a

Junk Free

employee.

Tell us what you need

, and we'll find a day for your appointment.

We'll also give you an over-the-phone cost estimate!

Expect our courtesy call on the day of your appointment.

Lastly, show us the junk, accept our quote, and we'll start working right away.